<!code for content of this page: />
Fishing GPS marks
If you have a GPS enabled mobile device such as a smartphone, the maps below can turn your device into a free navigator with the following features:
No app installation required
Track your current location
Thousands of GPS marks
Commonwealth marine reserves
State marine reserves for participating states (currently only SA)
These maps will not work on Google Chrome (version 50 and newer). If this affects you, scroll down to the versions without a location tracker. If you would like to access this feature, I recommend installing firefox, which is free and simple to install (google it, use the mozilla.org link, and read any fine print).
Click here for more free GPS-based apps.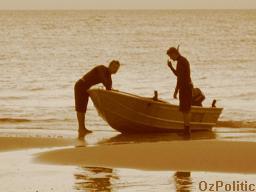 Note that the maps do not contain any boating safety navigation aids and are not intended to replace a commercial GPS navigator. They can assist you to navigate to the marks provided and may provide additional information on marine parks. The GPS marks have not been verified. See the detailed disclaimer below.
To see a table/database of the GPS marks and a note on the geodetic datum, click here.
On your PC, the maps can be used to browse your local area for GPS marks and print the coordinates.
This first table (above) takes you to maps that show your current location (blue dot with a grey circle showing uncertainty). The links to different zoom levels are provided for convenience - you can zoom and pan on the maps the same way you do with google maps. You may need to allow the application to access your location.
Problems? Check the following:
Are you using google chrome? Geolocation (shows your current location) will not work on the current (or future) version of chrome from 'unsecure' sites. See below for maps that do not use geolocation. To secure this site I would have to purchase an extra IP address as well as some other stuff, which may happen one day.
If you are getting a blank map, it may be because you are indoors. I have only noticed this problem on firefox for android.
If you have a very slow connection, try using the 'location only' map above. If that works, either wait longer for the other maps to load, or get more RAM.
The maps below do not show your current location. They will work on Google Chrome. Find your closest region and click on the link.
Printer Friendly




GPS marks only
No google buttons
White background for water

Detailed Version




Commonwealth and SA marine reserves overlaid
Google buttons
Blue or white background

Queensland

New South Wales

Other states
Stay tuned - more to come
Please note:
These maps and marks are a guide only. No warranty of any kind is offered. Do not use them for navigation or anything silly. No regard has been given for navigability, tides, currents or other conditions.

We were recently informed that two of the spots were inside no-fishing zones. Oops. Sorry about that. They have been removed. Thanks to the department of environment for chasing that up. Again, no warranty is offered and other spots may also be inside no-take zones. Let us know if that happens. Our vision is to have all the types of fishing zones overlaid on the maps (or get the government to provide a similar service). Unfortunately the information is only available in a convenient format from the federal government and SA state government.

The commonwealth (federal government) and SA state government marine reserves marked on the maps do not contain any details of zone type. For this information, see their websites (environment.gov.au/topics/marine/marine-reserves, environment.sa.gov.au/marineparks/maps-and-coordinates). Note that other state government marine reserves are not shown. In many cases these reserves join up with the federal reserves. There may also be local government restrictions that are not indicated. Please encourage the remaining state governments to make their zone boundaries available in an equally convenient format (and include all local and state zonings in any information released).

These GPS marks are freely available online from a number of websites and by email. They are already fished out. Some still had fish, so they were removed from the list. If you come across any others with fish, please let us know so we can take them down.

A lot of work has gone into making these marks available in such a convenient format. Please share this content by sharing a link to http://www.ozpolitic.com/fish/map-gps-marks-fishing/index.html. Please do not share the content any other way.

If you would like to have your own GPS marks added to a private map, please contact us to discuss options. We would also appreciate more freely available GPS databases that you don't mind being made public.

Please encourage GPS manufacturers to switch to open source formats for GPS databases, so you don't need special software and/or hardware to get these points into your GPS. You will probably have to enter them in manually. This site allows you to browse them on a smartphone while you are out on the water, so you can enter the ones you need as you need them.

None of these GPS marks were entered manually. Software was used to extract them from other websites, convert them to an appropriate format, determine an appropriate description based on surrounding text, then upload the marks to a database.

There is no need to write the marks down. Simply select all while viewing the map then copy and paste.

The links in the left column above are intended to be printer friendly - ie mostly white, without the buttons etc. Use the mouse wheel to zoom and click and drag to pan. You should be able to view the maps in full screen mode, with nothing else at all on your screen. Auto-hide the taskbar for this. In firefox, you need to deselect "always show tab bar" under tools-options, then hit F11. In Chrome, just hit F11. You should be able to search for instructions for other browsers.

Use the links in the right column above if you want to see all the buttons. Click on the 'map' button in the top left to get a blue background on the ocean.

<! last thing in body: footer and div closures for content and border />