<! code for content of this page: />
US 'democracy' is flawed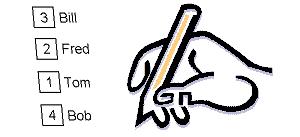 The American electoral system is flawed because of the vote counting system used. Under the current 'first past the post' vote counting system:
a candidate can lose an election even if he is the majority favourite (the spoiler effect), and
people do not feel they can vote for who they really want (strategic voting). In order to avoid the spoiler effect they feel they should instead vote for one of the two major parties.
Strategic voting destroys the chances of 'third parties,' which leaves the two major parties without adequate competition. Rather than competing on a level playing field they are only competing against each other. It is then easy for both major parties to accept bribes from the same interest groups. The artificially reinforced two party duopoly is the main reason why American political leaders are so slow to respond to the will of the people.

There are simple ways to eliminate these problems, such as instant runoff voting, that do not fundamentally change the system of representation, that do not involve computerised voting and do not introduce any other problems.

<! last thing in body: footer and div closures for content and border />